I am a VFR Private Pilot and have over 500 hours in a Cessna 150/152. I obtained my Private Pilot's Certificate from Regal Air at Paine Field. I own my own Cessna 152 and fly about 5 hours a week (depending on weather and in Seattle, (Travel Seattle), flying weather can be hard to come by sometimes!). I base at Paine Field in Everett. I fly for recreation, and my next goal is to obtain IFR and multi-engine ratings.


AOPA's Real-Time Flight Planner provides up-to-the-minute graphical depictions of TFRs.

I downloaded and installed this flight planner and love it. It's powered by Jeppesen and is a wonderful tool. I highly recommend it. I've dumped Cirrus 5 in favor of this.

Following a meeting between AOPA President Phil Boyer and high-ranking Navy officials, the FAA has reduced the size of two security-related temporary flight restrictions (TFRs) in the Puget Sound area. TFR Text. Check the FAA's TFR Web site.


I finally sold the C150 for $20k to a local pilot. My IFR lessons are on hold for now - ran out of money and study time. I'm about 2/3rds through the course and should be able to finish with another 1k and a month's time. But I need to really buckle down and study/practice approaches.


This news brief appeared on AOPA's Vol 5 Issue 15
TRAFFIC DATA COMES TO GA COCKPIT
Avionics companies are jockeying to take advantage of new technology that brings traffic avoidance to the general aviation cockpit at a cost many times lower than that of similar systems in high-end aircraft. Using the FAA's free traffic information service (TIS), air traffic information is sent to aircraft via a Mode S datalink from ground-based radar facilities. The airborne transponder receives the data and it is displayed on a screen. Basically, you see what controllers see. Two companies are now marketing TIS-capable transponders. Garmin was first to receive a supplemental type certificate (STC) for its GTX 330. Honeywell followed recently with the Bendix/King KT 73. Both units cost around $5,000 and are compatible with each respective company's existing displays. They offer audible warnings when there's a potential conflict with other aircraft. There are, however, gaps in coverage. The transponders derive data from radar installations located mostly in the East, Midwest, and California.



I'm 1/3rd the way through IFR lessons, and hope to have my IFR certificate by the end of May. My Cessna 150 is still for sale. I've had a couple of nibbles on it, but no serious bites. Work and private life is going well. Not much else to say right now.


I signed up for IFR Ground School in September, completed it in November, and passed the FAA IFR written with 88% on November 26th. I've started my IFR Flight lessons and if I keep up with them, I should get my IFR certificate by March 2003. Hopefully I'll get lots of practice flying hours with my new found friend, safety pilot, and flying buddy Donna who just got her IFR certificate and is studying for her commercial.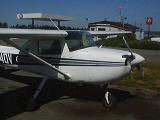 My first airplane was this Cessna 150 which is now for sale.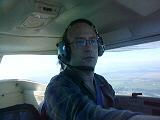 A self portrait while flying the C150.